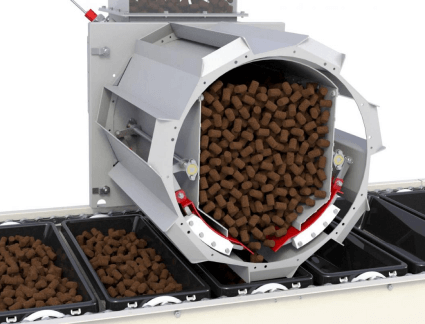 The patented Simatek Drum Feeder is the ideal feeding system for conveying fragile products – both easy and poor flowing products.
The system fills the buckets continuously and separately without waste – no overlap required.   The function makes it possible to convey with low chain speed in combination with a high filling degree resulting in an increased capacity. This optimisation also ensures minimum dust generation.
The gap between the buckets eliminates the need for most guides. Only a forced guidance of the buckets at emptying is needed, which results in significant cost savings on wearing parts and a substantial enhanced operational reliability.
The integrated dosing damper valve is controlled electronically from the enclosed control unit or directly from PLC. The feeding system is executed in an "easy-to-clean" design, which makes it possible to open and disassemble the main components in few minutes. This is a reliable and gentle feeding system specially suited for the process industry for conveying fragile as well as abrasive products.
The drum feeder may be retrofitted on existing elevators.