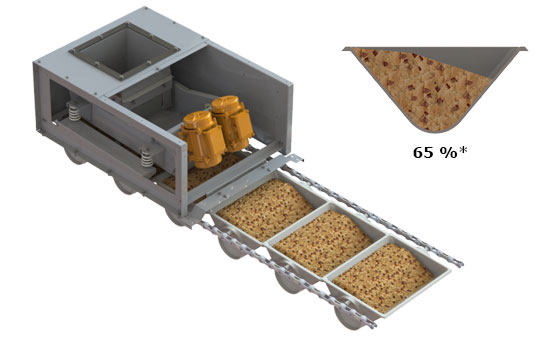 Simatek Vibrating Feeder is a solution for traditional filling of bucket elevators with most product types.   The system ensures a continuous and gentle filling, however, with a limited filling degree.
The vibrating feeder is specially suited for asymmetric, packed, and larger product types, where the metering based feeding systems have limited application. The system supplies a regular product flow to the passing buckets.  To ensure the most optimum distribution and volume across the entire width of the bucket, it is possible to adjust the percussion power, the layer thickness and the vibration frequency (requires connection to the frequency converter).
The vibrating feeder is primarily used for products, with no focus on neither dust generation, high capacity, nor very gentle conveyance.   Alternatively, we can deliver specially developed vibrators for handling e.g. corncobs and potatoes.